Our solutions








Products


eLearning CMS







Our services







About






eLearning CMS
/THE MANAGEMENT SYSTEM OF EDUCATIONAL CONTENT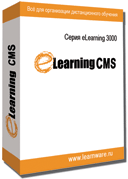 eLearning CMS is a structured storage of different materials, connected with educational process. This storage can contain both independent educational objects: illustration slides, texts, rules and procedures, and full educational courses and also accounting cards, textbooks CD-ROMs etc. Using educational objects which are put in the storage, the instructor can make up or add the current training course.

Both simple and complex objects (educational courses, textbooks, exercises etc.) can be placed in CMC storage for repeated using.

eLearning CMS is included as a component into delivery of eLearning Server.



The possibility of searching
In the storage the keeping of material is placed according to heading, searching according to different fields of descriptions, full text searching according to the content of materials.

Support of access level
Because of the system of different access level support to the objects it is possible to delimit the access of material according their "secret" level.

The objects version control
The storage system allows keeping of several versions of one and the same object simultaneously, providing automatic updating of educational objects.


Presentation of new generation LMS - eLearning Server 4G will be held on the 20th of September



International Cooperation: HyperMethod IBS and SkillSoft



International Center is on the way to eLearning Server 4G