Our solutions








Products



eLearning SIS






Our services







About






eLearning SIS
/INFORMATIONAL PORTAL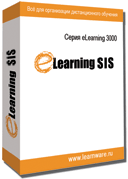 eLearning SIS is the innovative decision, allowing to create and operate a corporate information portal. Automatically created resources according to structure of the organisation of a portal allow to use various services for decision of following problems:

informing of employees (a news line, votings, information cards, etc.);
collection of the public and internal information (regulations, the documentation, etc.) on divisions and employees;
communications (including instant communications between employees) within the structural divisions, design groups, categories of employees.

Integration with Assessment Tools
ÂIn aggregate with module Assessment Tools the module eLearning SIS allows to solve problems of the organisation of virtual offices of employees with the automated documenting not only their direct official duties, but also an operational administration of definition of the purposes and solved problems, carrying out of an estimation and certification of employees.

Integration with eLearning CMS
Integration of eLearning SIS with eLearning CMS provides the decision of a problem of knowledge management in the company – planning, accumulation, using and improvement of knowledge base.

Integration with eLearning Server
Use eLearning SIS together with eLearning Server creates not just a learning management system, but the educational portal solving through industrial problems.


Presentation of new generation LMS - eLearning Server 4G will be held on the 20th of September



International Cooperation: HyperMethod IBS and SkillSoft



International Center is on the way to eLearning Server 4G