Our solutions








Products





eAuthor CBT




Our services







About






eAuthor CBT
/ THE CONSTRUCTOR OF DISTANCE COURSES, TESTS, EXERCISES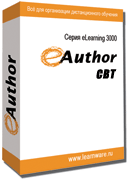 eAuthor CBT - is intended for instructors (teachers), trainers, members of training centers, developers and authors of training courses.
The development of training material
Even though, the author has elementary skills of working on the computer, he can create the electronic training course easily, including:
the creation of course structure, paragraphs, lessons, description of training aims, control of aims achievement, creation of control tests and demonstration of theoretic and practical material;
the development of first, transitional or final test control, and also assessment's units;
the management of training according to the tests results;
the creation of editions protected from illegal using;
using of multimedia sound and video files, animations, files of DWF (drawing figure), VRML (interactive 3D-objects), PPS, PPT ( MS PowerPoint) format and others;
supporting of SCORM, AICC, IMS, LOM, digital educational recourses specifications.
Quiz development
The creation of independent quiz (taking into account different personal requirements) demands minimum efforts and time. The quiz can be in on-line or off-line modes.
Exercises and laboratory manuals development
It is easy enough to create interactive trainings and laboratory manuals, case-games, practical and laboratory works by the means of eAuthor. With the help of such functionality it is possible to appreciate not only the trainees' knowledge and skills, but also to show the right actions and behavioral model to them.
The creation of course formatting
On the base of standard formatting it is possible to create your own variants of formatting the prospective course. To do this it is enough to point what elements will be used (ground-color, buttons, textures etc.) and by a simple choice to define their destination "forward», «contents" etc.


Presentation of new generation LMS - eLearning Server 4G will be held on the 20th of September



International Cooperation: HyperMethod IBS and SkillSoft



International Center is on the way to eLearning Server 4G